A Favorite Writing Memory
I have had the good fortune to have a writing career blessed with some very good memories. I'm going to differentiate here between the act of writing versus the business of publishing. The act of writing is creating the manuscript, a quiet, solo endeavor. The business of publishing is trying to then turn that manuscript into something profitable and is a very different kind of challenge which can be stressful at times. But for this post when I refer to "writing" I mean the former creative process.
I discovered when writing that first ill-fated novella that writing is therapeutic for me, calming, stress-reducing. If I start to go too long (on the order of days) without participating in the creative process I start to get a little wound up. Which is why when I go on vacation my laptop comes with me and I look forward to writing in a new setting. And if I can't bring the laptop (or don't want to carry the extra weight) I bring my paper notebook with me and hand-write. This is how, before my latest trip, I had happened upon my favorite writing memory: hand-writing on a manuscript of The Bear that Painted the Stars in a cigar-bar in the heart of Athens, Greece. But it's now my second favorite writing memory.
I focused on short fiction in the first few years of writing, writing something like thirty plus short stories, novelettes and novellas. But as I wrote before, people aren't interested in reading individual pieces of short fiction off of Amazon. People want novels; they want novels in series. So that's what altered my writing plan to deliver (a business decision by the way). The plan called for writing novels in two series. The first series is an epic (tentatively five-book arc) steampunk series that I want to finish in near entirety before starting to release. The second series are stand-alone episodic novels (similar series structure to the Dresden Files) in the Underwater Restorations universe. So while I finished the first novel in the steampunk series this past spring, it wont be released until 2017 likely (sigh). However, since the Underwater Restorations novels are episodic and meant to be stand-alone, I plan on releasing them as soon as they're done (about one a year for the foreseeable future).
This is where my now favorite writing memory comes in. My wife had a conference in Bath, England and we decided to make a vacation of it the week beforehand. But during the conference in Bath, I was left to my own devices. So naturally (after sight-seeing) I found a pub and promptly started writing. I was working on the first Underwater Restorations novel at the time and I finally got to write those two words writers have a bittersweet relationship with, "The End."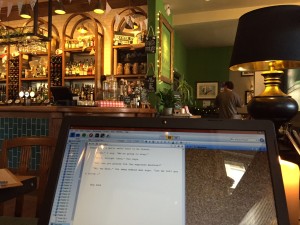 Of course, it isn't really the end for Isa and her crew. Really, it's just the beginning. Which is why it's such a great memory. I'm really (really!) excited to share their first full-length novel adventure. But now that writing is finished, queue all that pesky publishing business stuff. The release date is tentatively set for December 2015 as I try to scramble around and line everything up. Hopefully, my next post will have a more definitive date and details. No matter what though, it was a fantastic memory, one I can't wait to share the product of with you all.