Up until recently I hadn't missed a scheduled blog post in two years, and now I've gone and missed two. But whereas, the first missed blog post referenced in the linked post was accidental, these past two were intentional (but perhaps I should have mentioned something before going dark—I'm in my thirties and still navigating proper social behavior). I missed the last two blog posts for the laudable purpose of travel (both personal and work).
First, I was on vacation to England for two weeks (omg!) and while I was over there I realized I hadn't taken a day off of writing (doing something writing related, e.g. writing, editing, researching, blog posts, social media, etc.) in two plus years. Every. Day. So I took a proper vacation and didn't work on anything unless I wanted to. I had such a wonderful time. It was such a blessing to be able to unplug from all work, and just relax with my spouse. Curiously enough, I found unplugging and traveling around London and seeing all the amazing sites and eating delicious food and drinking large frothy beers in old Victorian pubs recharged my creative juices quite a bit. Here are a couple favorite memories: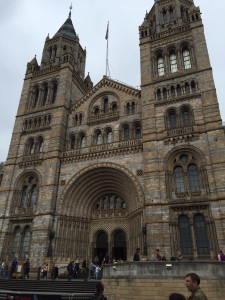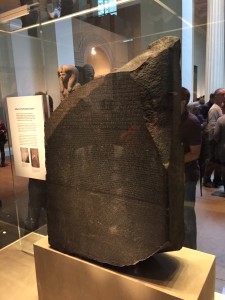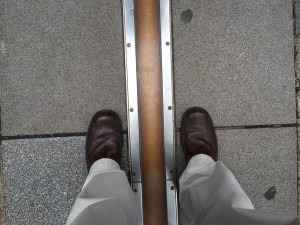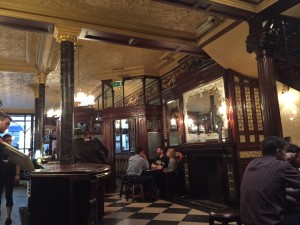 The first is the outside of the Natural History Museum, which was a ton of fun to wander around in. The second is the Rosetta stone at the British Museum, which was full of stuff. We spent a whole day in there and still didn't see everything. The third is me standing on the Prime Meridian at the National Observatory in Greenwich–which was just awesome. As a scientist that does a lot with latitude and longitudinal tracks, it was really neat to see where everything is tied to and learn about the quest to figure out longitude at sea. The last pic is of a cool Victorian pub near where we stayed (I love that kind of stuff!). After a busy week in London, we then went out to Thornbury, west of London and spent a relaxing weekend in a castle: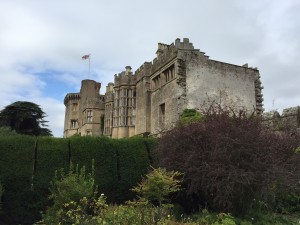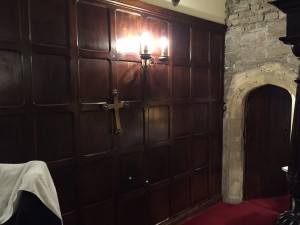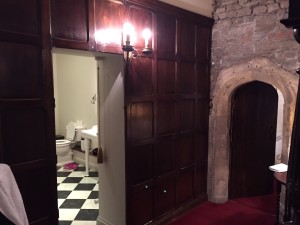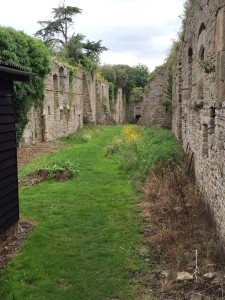 When we first got to our room, we couldn't find the bathroom! My wife almost had to go ask, turns out we had to twist the metal cross to open a secret passage–so, so awesome. The castle has been around since ~1500 and there are grounds to wander around in. It was a perfect weekend getaway.
But my travel didn't end there. As soon as I got back, forty-eight hours later I had to turn around and fly up to the northeast for two weeks (ugh!) for work. But it wasn't all bad. I ate a lot of lobster and had some nice scenic views for dinner (including some wildlife):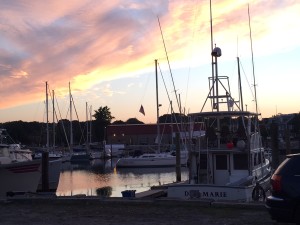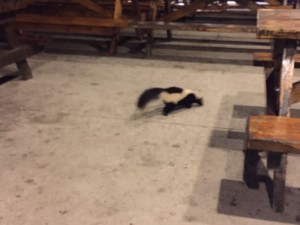 And since I work at a pretty great place, and the flights back to Austin were so horrible for the weekend I was stuck in New England, work covered flying me to Charlotte to hang out with my parents and my sister and her family. It was a very peaceful weekend. I got to wake up each morning, grab a hot cup of coffee and sit here and write every morning with this view: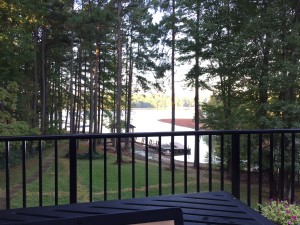 So I had a nice well deserved break. But I'm back at it again and very excited about the notebook full of ideas I came back with. Next time, I'll share what my favorite writing memory is to date which happened on my travels in England (I know I said I didn't work on vacation and I still stand by that–I'll explain next time).