Underwater Restorations Released!
Last post I wrote a bit about how I love heist stories, and this month is particularly exciting as I launch the first story in Underwater Restorations series. The Underwater Restorations series combines two of my favorite things: heist stories (big surprise) and all things underwater (also probably not much of a surprise based on my website). It's set nearly sixty years in the future when most of the coasts are underwater and a heist team pilfers these underwater sites as a means to make a living. Hi-jinx ensue, and it's just plain a lot of fun (so much fun to write).
I've been feeling a bit under the weather these past few weeks, so I'll save the Fantasy Workshop I did and novel progress for next time. I hope you check Underwater Restorations out, it's a universe I've already written more stories in and am currently planning on writing a novel to be released later this year.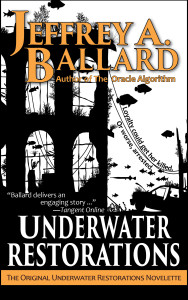 High-tech Thievery. Betrayal.
On the run.
Flushed out from the criminal underworld of pilfering underwater graves, Isa must gamble to survive. Cut off from the world she knows, and in the open without a citizen's chip, she attempts the desperate. Among the stakes gambled: another man's life—the only decent one she knows.