I love con and heist stories. I love them so much that I'm building a science fiction series, Underwater Restorations, around a band of roguish, fun-loving thieves. In fact, over the next few months I'm releasing two heist novelettes and later this year a full-length heist novel in the Underwater Restorations Universe. It's the type of fiction that's just fun to read (and super-fun to write!) and pretends to be nothing else but entertaining.
To celebrate my love of heist stories, I put up the The Secret of Sky City *free* on NoiseTrade. It's a heist story (in case you couldn't guess). So if you love heist/con stories then check out the The Secret of Sky City for free.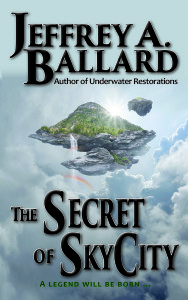 2065. A Floating City. Unexplained Powers.
Sky City. Billed as the most perfect place on earth. It floats a mile above the surface, leisurely circumnavigating the globe, a favorite vacation spot for the wealthy. Its king: an alien-being shrouded in mystery. Residents and visitors alike are compelled to follow his rules, an enchantment placed upon them.
All except for Jena Alwen—a first time visitor, and the thief contracted to steal: The Secret of Sky City.