I have a couple of free things going on at the moment.
1. First I put up a free science fiction heist novelette, Just Heroes on NoiseTrade. It's a fun entertaining read that plays with story structure by telling the story out of chronological order (it was a ton of fun to write too!). Cover and description below.
2. I currently have an Amazon Giveaway going for Underwater Restorations: A Sunken City Capers Novelette. Two prizes have already been claimed, there are three still remaining. Enter now!
3. If you can exercise patience and delay gratification (available July 1) the eARC signup for the Solid State Shuffle: Sunken City Capers Book 1 continues to gain steam and is still open.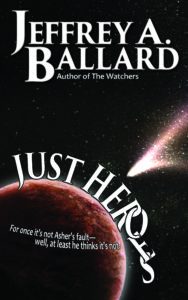 For once, Asher finds himself getting shot at for reasons not of his own making. Well … at least he thinks so. Could go either way really.
Forced into the unlikely role of hero on the Ceres Mining Colony, Asher must find a way to stop runaway mining payloads from devastating Mars, all while still achieving his team's original goal. In a situation where secret agendas abound, Asher fights to save Mars while keeping his own motives unknown.