The gears of publishing were not as rusty as I feared! It was kinda like riding a bike, you've never really forgot even if the start is a little wobbly. So here it is, the last and final book in the Sunken City Capers series: The Cleaners' War, Sunken City Capers Book 5. And since it's been five years (!) between book 4 & 5, book 5 includes a "What you need to know" section that summarizes the key details in the series before the start of book 5. I hope you enjoy it!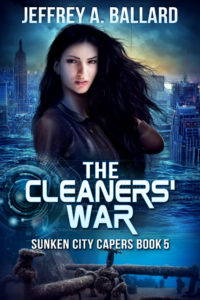 Her father executed. A gun to Charlie's head. One week.
Tick Tock.
After witnessing her father's execution, Isa finds herself stripped of her tools, her allies, and alone in a foreign country's custody. When an orchestrated escape opportunity presents itself, she leaps without looking.
Now free and hunted on all sides, she's forced into an unexpected alliance with her enemies: disgraced Cleaners. And, if that weren't enough, the path to redemption leads straight through that oily snake Ham—desperation makes for strange bedfellows.
Thrown into a tangle of vipers, Isa must navigate hidden agendas, false identities, and a vortex of prima-donna personalities, least of which is Puo's, all while making sure she steers the ship straight into the heart of the National Syndicate.
The National Syndicate murdered her father. They kidnapped Charlie. They will never stop coming for her. She needs to deal with them once and for all.