The Elgin Deceptions is live!
The Elgin Deceptions: Sunken City Capers Book 2 released earlier this week!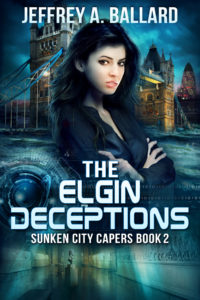 I had such a blast writing this one. I had the good fortune to be able to take  a vacation with my spouse to England right as I was finishing The Solid-State Shuffle: Sunken City Capers Book 1 and we were able to spend several days in London touring around. It. Was. Awesome. That vacation absolutely influenced the writing of book 2. It was a lot of fun to tour various sites like The British Museum and Buckingham Palace and wonder what these places would like underwater and how an intrepid team of ne'er-do-wells would break in to loot them. A lot of that fun and mischievousness made it into The Elgin Deceptions.