The Brummie Con: Sunken City Capers Book 4 is released!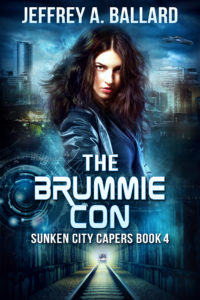 Bosses are dead. Her father kidnapped. And no one has a clue why.
Isa, Puo, and Winn rush back to her father's estate for answers, but only finds guns, assassins, and relentless pursuit. Forced into a desperate escape, Isa must retreat further into her past to stay alive.
Dejected and back in the miserable gutters she started from, Isa starts to piece together the disparate events of the past several months. Unfortunately, the trail leads back to England, the site of the most daring underwater heist in history and a buzzing hive of pissed of Brits clamoring for the thieves throats.
Confused and on the run for their lives, Isa must unravel the unthinkable: Cleaners declaring open war. More than just their own lives depend on it.